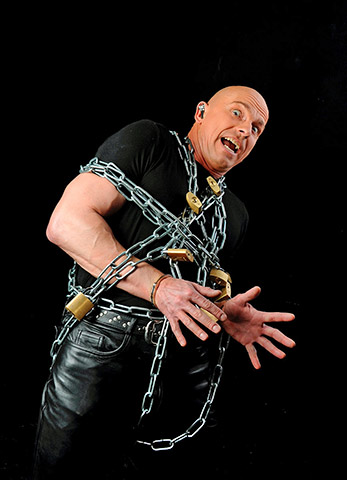 MASTER OF SENSATIONS - THE SHOW
…exciting, sensational moments with a pinch of elegant comedy!

Ultimate demonstrations of determined concentration and skill, playing with the subconscious of your guests in a harmonious way.

Gasps of relief when the impossible is done, happy laughter at the funny presentation.

No matter if WOLF FISHER…
escapes with lightning speed from his cuffs,
stabs a chosen card from a pack thrown in the air,
shines with games of the mind,
or gambles with his kind of "Russian Roulette",
or plays around with needles or razorblades:
entertainment first, hiding the subliminal danger of his feats.
Gripping demonstrations that entertain, thrill and motivate your audience.
WOLF FISHER adjusts his show to your guests and your event, delivers pure entertainment with his solid and practical show acts.